So far this election campaign, a week old tomorrow, has held little in the way of surprises. It's just been a collection of jabberjaws you either don't believe or don't believe can win saying the things you expect them to say.
These usually involve figures that are either so ridiculously simplistic that they would make a primary school reception class roll their eyes in boredom or so arcane and involved that trying to penetrate them would probably even wear down that battery that makes Stephen Hawking work.
Hurray for something unexpected, then. The Labour Party have finally made a radical left-turn. Not in terms of policy or politics, it must be said, but more in the general area of what they've been up to lately. So far, as you might expect, they have concentrated on activities pertaining to the upcoming General Election. Today, however, they took the bold, radical and interesting step of launching a new brand of margarine. Here's the lid: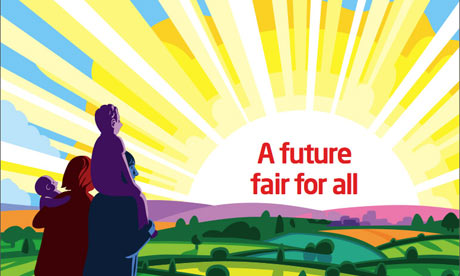 I assume it's margarine. It certainly looks like it is. I know "A Future Fair For All" probably seems a little odd, but since "I Can't Believe It's Not Butter" opened Pandora's Box of tedious zany names 15 years ago, that sort of shit's been all over the place.
Somebody I was listening to seemed convinced that this is in fact the cover of the Labour manifesto, but that's just crazy talk. Unless the Future referred to is the one that happened just after 1945, when the picture appears to have been drawn.
So yes, margarine. Or perhaps I'm mistaken and they've just released an album of Lemonjelly covers. Either way, it's not Politics As Usual and - goldarnit! - isn't that what the public want?
**
Due presumably to some sort of mix-up in the marketing department, Labour also chose today to launch their manifesto. I haven't actually seen a copy of it yet but as I understand matters it's deliberately short on big ideas. Big Gord has gone for low-key, realistic, boring in the hope that that appeals to the British public. This is the same British public, remember, who voted Jordan as Mum of The Year, so I'm not sure his faith is entirely well-placed.
Still, no matter how understated, every manifesto needs its core idea. To put into context exactly how low-key Labour have gone, the central policy this time is as follows:
"We undertake, within the five years of the next parliament, to scare away all the crows in the field."
**
In the meantime, I fear that this may be the very last of my blog entries for the foreseeable future. I realise what a blow this must come as - I assure you this is not of my doing and there is little that could tear me away from my either of my loyal following, but "there comes a tide in the affairs of men when something something something." Shakespeare. Or one of those. What I am saying is that I have been called to A Higher Duty. Modesty would normally prevent me and all that, but I am too excited to keep it in.
I shall have to stop clapping my hands in glee for a moment and concentrate on typing. What do you think I received this evening? Have a look at this:
Well, I mean, obviously this is a tremendous honour but I think it's the vote of confidence in my abilities that I find most affecting. I never would have thought that relentlessly twittering or spending two hours out of every five trying to master the B-side of Abbey Road on Beatles Rock Band were the kind of qualities that most would-be Prime Ministers might find attractive in a potential cabinet appointee, but this just goes to show how little I know about the inner workings of politics.
Golly, you just wait till I get my feet under the ministerial desk; that guy down the road with the over-sensitive car alarm isn't going to know what hit him. Oh yeah. Him and his ever-trampolining children. Backyard ASBOs coming your way as Policy Number 1. Tax on Findus Crispy Pancakes is Policy Number 2. I am going to crush those noisy bastards.
I mean, I assume that Conservative Central Office have run a full background check on me. I assume my views are in line with what they deem acceptable. You wouldn't want to invite just
anyone
to be part of a government.
Unless I've got this wrong again and it's actually a thuddingly heavy handed pitch at having us believe that they'll give a rat's second-best ass for what anyone outside of Whitehall or the Cayman Islands thinks about anything from roughly May 7th onwards. It can't be, can it? Lord, that would have all the subtlety of a sequoia falling on your house.
So no, I shall brush up my policies. Number 3... Hmm... 1% extra income tax for people whose wall-mounted plasma screens illuminate the street after dark, I think.